So we've been in our house for over three years now, and every now and then we get a burst of energy and get some stuff down, but the list is very, very long! Our living room is in a sad state at the moment, with a raw drywall wall that has been there about a year at this point, and a new hole in the ceiling due to a plumbing leak in our upstairs bathroom. We'll probably end up hiring someone to do a bunch of drywall repairs around the house at some point, but until then, live with them we will. (ugh).
One issue that I can tackle though is lighting. One of the joys of a hundred year old house is crappy electrical systems, part of which is that we have very few overhead lights in the house, with none in the living room or any of the bedrooms. I've had a ramshackle combination of table and floor lamps in the living room, but I wasn't super happy with them, so I'm coming up with a Plan (capitalization is intentional, it's that important)!
This is the current set-up:
The issue is that we only have task lighting, and it's just not working. I bought the black double-sconce a while ago from
Urban Outfitters
, which I do like, but is not quite right for the living room. I think it will work much better as much needed task lighting in the attic, so it will move up there once I get replacements. A couple of people recommended lights with white lampshades, to provide diffused light in the room, which is exactly what it was missing.
Another issue with the room is that there is no entry lighting. That's the front door on the left of the photo, which goes back to the stairs and the coat closet, all which have no lighting. Eventually, John will probably add a ceiling light at the door, but that will be probably in a year or so, so temporary measures are in order.
I came up with a vague idea of a plan, and have a few lamps on order, so we'll see how it goes! The current idea is to do a simple wall swing light where the double-sconce currently is, and the big debate there is to do a
dark bronze/black
or
brass
finish (both quite affordable options from Target):
We have very little metal anywhere in the house, I've realized, and our dining room light fixture (very visible from the living room) is the dark bronze color, so I thought it might tie in well. The black double-sconce is so stark though, so I'm not sure. We will be painting the walls at some point, but they will be a very very pale turquoise color, almost white, so not too different than the warm white they currently are.
Diagonally from that corner is our Eames lounger in a corner (older picture, but you get the idea):
I think that corner is a great place to do a hanging pendant. I was initially thinking just a simple white drum lampshade, but then I realized I wanted to amp it up a notch. I found a
really cool pendant
, also from Target, but I'm worried it will not provide enough light:
I went back to my old standby, Overstock.com, and found this
kinda interesting light
, but it's on the small side (the shade is only 7" in diameter):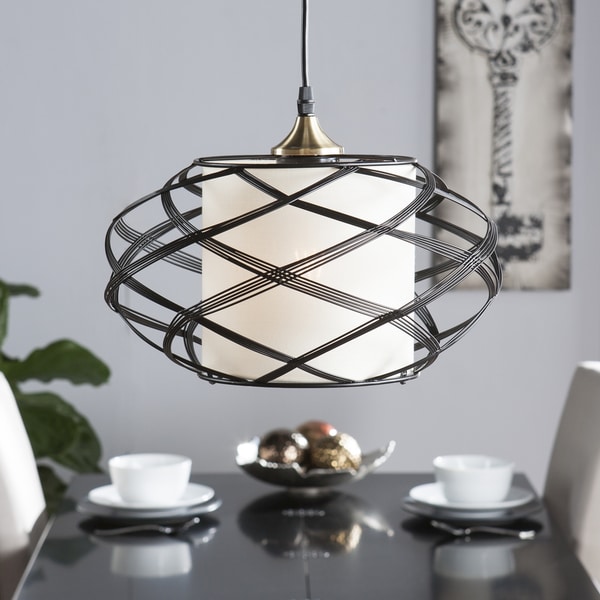 I just looked back through my home posts on my blog, and found
this post
where I was talking about copper lights, and now I've gone down a rabbit hole on Etsy looking at vintage copper pendants.
What do you think - any favorite contenders?