So my Mom has informed me it's been a while since I posted, and Mother knows best, so here I am! :) I've discovered how much simpler it is to just post a photo to Instagram and not bother with the whole blog thing, but it's hard to get all the details in. I've been cleaning up my sewing room lately, and trying to wrap up the random half-finished projects scattered around.
This robe is one of those, in that I cut it out maybe a year or so ago, and it sat there gathering dust since then. The fabric is an unidentified clearance upholstery fabric from JoAnn's, with a nice texture, but it frays like no other. The pattern is intended for a lightweight cotton, and uses french seams throughout, but there is no way that was going to work with this thicker fabric, so my first step was to serge all the edges. I sewed it up basically like the pattern instructions (
Purl Soho Women's Robe
), but I left off the pockets and I sewed the belt ties into the side seams, instead of having it go all the way around the back, and shortened it a bit. I also changed up the sleeves, because I felt they were a little skinny with my fabric, so I made them shorter and wider than the pattern called for.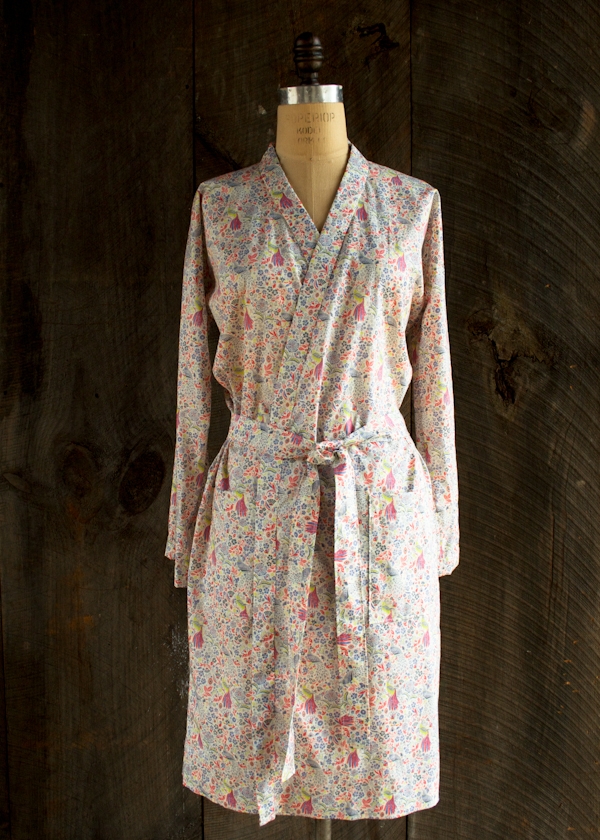 Original Pattern
My problems with the robe started with me not thinking through the pattern placement of the stripes, and the vertical stripes really are what give it the shepherd vibe. I was intending to leave it the longer length, but that was adding to the effect as well, so chop, chop. My second mistake was not measuring properly when I cut the neckline. The entire pattern is just a series of rectangles, and you cut a diagonal line across the top of the front rectangles to make the neckline. I cut it way too wide though, and it sits funny. Oh well, it's actually fairly well made and comfy, so for an around the house garment, not too bad!
Shepherd Chic