So after making my
big "plans" for fall sewing
, I got started last week. You may have looked below at the pictures, and said, hey, that wasn't in the plans, but trust me, it's part of it! I wanted to start out with the magenta blouse, but I wanted to test out my pattern first, since it was a new pattern, I started with the
Burda Style 3/4 Sleeve Top
, which has an interesting curved dart.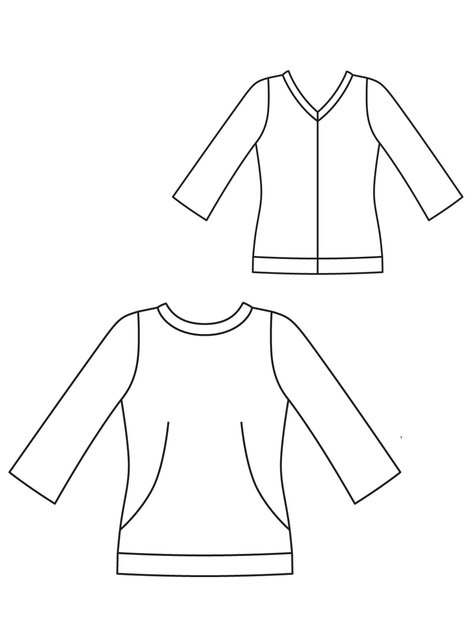 My first muslin I made up in an orange herringbone flannel which has been hanging around for a while, and was super soft, but unfortunately, the dart shape was just all wrong, and I didn't really know where to start to fix it. I scrapped that pattern and finally broke down and bought the
Grainline Studio Scout Tee pattern
, which is like the superstar of woven tees in the indie pattern world. I've resisted, because it's just so basic, but then I found they had provided a
tutorial for lengthening the sleeves
a few years ago, and it was pretty much the exact shape I was looking for.
Again, I wanted to try it out first, so I used a plaid lightweight wool that has also been hanging out for a while with no plans. I sewed it up in a straight size 8, which matches my measurements according the size chart perfectly, but I think it's a little loose up top, and I will size down to a six for the final version.
It was a super easy top to sew up, given how basic it is, and I even took the time to french seam the whole thing, even the sleeves! I'm really happy with how it came out, and will definitely be using this pattern to make up the magenta top in my plan (with longer sleeves), not to mention I have a great wearable new top!
An added bonus - it matches my new turquoise tweed blazer, which I'm super excited about breaking out a lot this fall. I was really looking for a black/white tweed suit, but I fell for this one from Boden.
And this is just the start - I already have 1.5 more items done from my list! Stay tuned for further progress.